IDEAL FOR FISHING TACKLE STATIONERY AND LIGHT-WEIGHT ACCESSORIES
---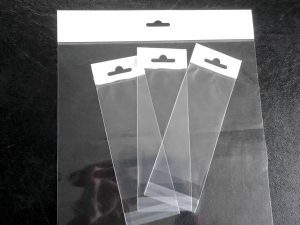 ---
We specialize in the supply of Polythene & Polypropylene bags for Point of Sale Display, manufactured to Customers own specification to enable you to personalize your retail product presentation.
Our HEADER BAGS are high quality custom-made polypropylene bags with a re-enforced integral header designed for hand packing small flat lightweight products.
There is a wide variety of design options – top or bottom fill – plain or printed – euro-slot or round hole in header – permanent or reseal-able seal.
Please ensure you provide as much product information as possible to ensure we offer you the best packaging for your needs.
For printed bags the order quantity needs to be in the region of 5,000 and above to be economically viable, subject to the number of required colours.
---
Comments or questions are welcome.
For larger quantities or a bespoke bag size contact WOLDPAC for a quotation
Call 01483 229183